New Pay Analyst Assignments Effective February 27, 2023
Starting next week some HR Group assignments for the pay analysts will change. All U-M Health and Medical School Departments are assigned to a specific HR Group (1-24). To find out which group your Dept. ID is included in use the HR Contact Tool. New assignments will be visible on Monday.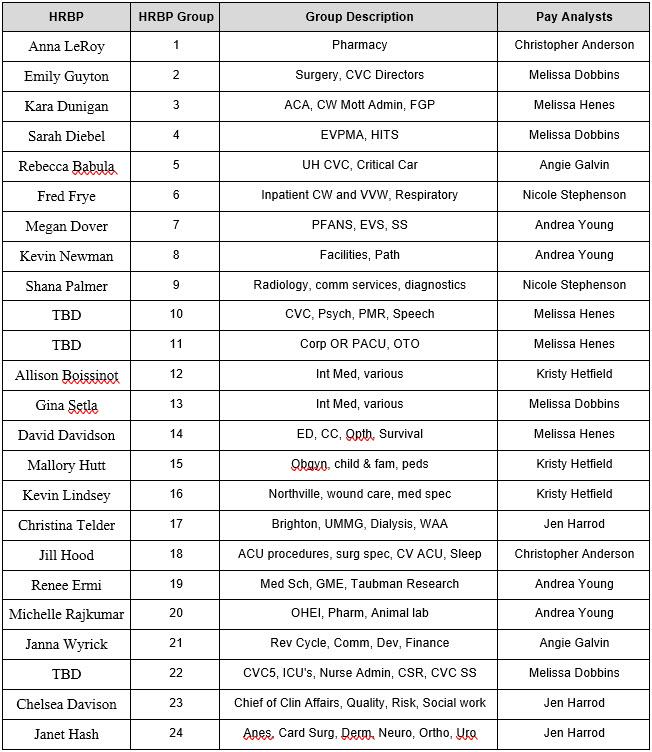 The U-M Health HR-Payroll Team supports U-M Health department timekeepers & approvers. Medical School employees under the sick/vacation leave plans are generally supported by the University Payroll Office or Shared Services Center for pay and leave bank questions. For more details on Who to Contact?
Reporting Time for Employees on Paid Leaves
If an employee is out using paid leave time such as Maternity, Parental or Extended sick, the standard practice is to report paid leave hours pro-rated Monday-Friday and up to standard hours each week.
Example: 40 hours a week 1.0 FTE – Report 8 hours leave pay for each day Mon-Fri
For certain leaves, employees are limited to a certain number of weeks of paid leave. For example, Paid Maternity (Childbirth) Leave, which is limited to 6 weeks of pay. To see more details, click here: Paid Maternity (Childbirth) and Parental Leaves.
An exception to the above is when employees normally work straight afternoon and night shifts or are regularly scheduled to work weekends. In these cases, you will report paid leave hours in accordance with the work schedule they had before their paid leave started, include shift premiums, and be sure to report up to their standard hours each week.
"When an employee is paid vacation, extended sick, sick, paid maternity (childbirth) leave, paid parental leave, PTO, holiday or season day pay for time that would have included shift premium if worked, the payment will include shift premium." Shift Premium
Please refer to the appropriate collective bargaining agreement for details regarding Shift Premium pay and Paid Maternity (Childbirth) and Parental Leaves. Union Contracts 
Timekeeping & Pay Resources to Bookmark
Below, you'll find links to pay & timekeeping related policies and resources to be familiar with and bookmarked for referencing when needed. We will send links to more resources in the coming weeks.
Payroll Oversight and Guidance
Tuition Support SPG - https://spg.umich.edu/policy/201.69