Biweekly Cut-off Next Week – Tuesday, May 30, 2023, at 10am
The biweekly cut-off will be on the usual day and time, Tuesday, May 30, 2023, at 10am. Since Monday is a Holiday please have all of your time reporting, approvals, and audits completed by Friday end of the day and if necessary consider taking some time on Sunday to make updates for hours worked over the weekend.
Tuesday morning run your audits one more time to ensure all time is accurately reported and approved and make any needed changes before 10am.
Overpayments – Resulting from PTO Accrual Reductions
The payroll team has redesigned what we call the "Accrual Reduction Exceptions Report" or "Unpaid Time Exceptions Report".
This report lists all employees who are overpaid due to not having enough PTO or Vacation in their bank balances when the system attempted to reduce the accrual due to exceeding the threshold of hours reported as Unpaid time, Extended Sick, and Maternity Leave in a month. The Accrual Reduction Chart shows what those thresholds are based on an employee's FTE.
The accrual reductions are done in the month following and after all time has been processed through payroll. Accruals are given at the beginning of the month so it's possible for an employee to become overpaid due to using accruals that the system tries to later remove from the bank.
Departments are notified of the overpayments and the deduction schedule set up for future paychecks. Notifications look something like this: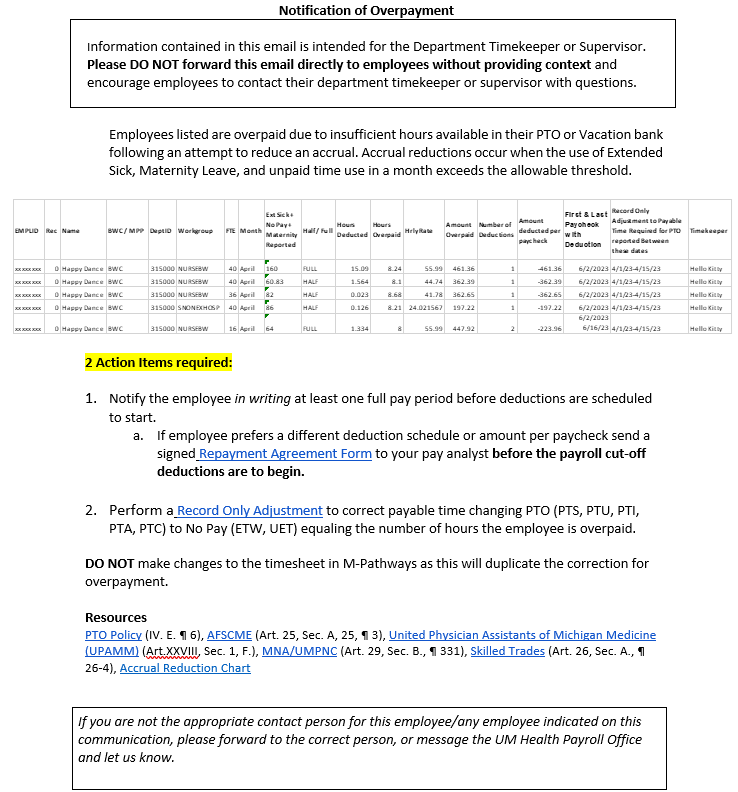 Please review and respond to these notifications promptly and follow the instructions labeled "2 Action Items required:". A guide on how to read the report will be forthcoming. In the meantime, please reach out to your pay analyst for assistance when needed.