Mid period Changes and Time Reporting
It's best to make appointment changes effective at the start of a biweekly pay period unless it's a monthly-to-monthly change then the first of the month is best. 
Especially when employees switch pay groups (i.e., Biweekly to Monthly) or workgroups (i.e., non-bargained to bargained for nurse). Each workgroup has a specific set of time reporting codes available on the timesheet. If a change is made from one workgroup to another in the middle of a week there is a good chance there will be an issue with reporting time for that pay period and it depends on the day the time is reported in relation to the effective date of the change and when the change was entered in the system. Often this requires manual manipulation of the employee set up in the system in order to report time.
In summary, a good practice is to use the start of a biweekly pay period for appointment changes with the exception of a monthly employee who stays monthly. In these cases, use the first of the month as the effective date whenever possible.
Eligibility Requirements for PTO Pay Out at Termination
Please keep in mind that Non-bargained For staff with less than two years of service as of their termination date are not eligible to receive a PTO payout, as per the PTO Policy (IV., N). 
Recently, the U-M Health HR-Payroll Office has been contacted several times by employees who were told they would get their PTO paid out but were not eligible due to not meeting the two-year service requirement. Understandably these employees were upset to hear the news. We are unable to make any exception to this policy.
Please verify employees will have two years of service at their termination date and if not make sure they are aware they will not be eligible to have any remaining PTO paid out to them. You can check years of service by reviewing the appointment information on the Job Data page in M-Pathways. Navigate to the Job Data page and click the Employment Data link at the bottom of the page to view the employee's years of service.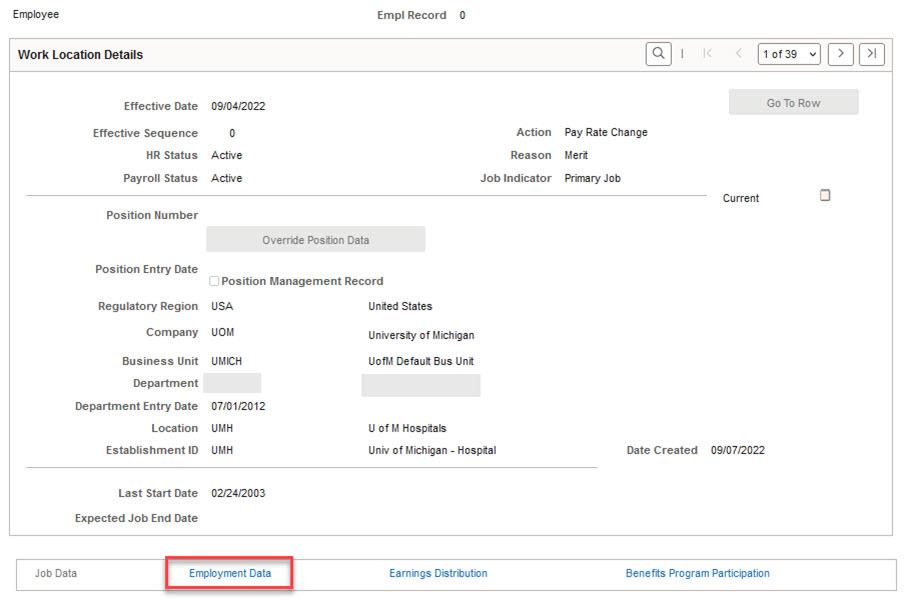 For bargained for staff please review the appropriate contract for details on PTO pay out eligibility requirements.
For more information about Job Data and reviewing an employee's years of service, watch the Job Data Overview video.
Resource Videos
The Payroll Knowledge Resources page on the Michigan Medicine Human Resources website offers a wide variety of training resources for timekeepers and time approvers. It is highly recommended that this page is included in departmental onboarding tools for training new timekeepers and time approvers.
Learning guides available include:
Video guides available include: