Importance of Standardized Pay Practices
For those of us responsible for paying staff correctly and on time it is important to know and understand how each group of employees is to be paid and how timesheets are coded to accomplish an accurate paycheck. There are many pay policies, contracts, and federal and state regulations to be consistently applied for each employee type. 
Our organization is subject to audits from federal, state and departments internal to UM. Keep in mind that consistency in how we pay staff is an important factor also and any changes to a pay practice must be reviewed and approved by HR-Payroll, your HR Business Partner, and possibly other teams or offices at Michigan Medicine. The reason for this approval is to ensure we are not in violation of any policies, contracts or federal and state regulations or other factors and to ensure critical parties are aware of the changes.
Together we must work to standardize and consistently and accurately apply pay practices across all departments at Michigan Medicine.
Managing Delegate Approver Groups
Supervisors on Job Data for each employee is that employee's Primary Approver in the M-Pathways System. Primary Approvers can assign up to five Delegate Approvers to approve time for their employees. The Delegates may be those that approve consistently because they are closer to the work and have direct knowledge of when employees are working, or they can be backups in case of unexpected circumstances where the Primary Approver isn't able to approve time. For more information about how to set up a delegate group see our Managing Delegate Groups job aid.
Timekeepers should not be listed as delegate approvers to support the integrity of the separation of duties requirements of the Payroll Controls Standard Practice Guide. The role of the Timekeeper is to review and audit the reported time and support approvers and employees throughout the time reporting/approval process in ensuring an accurate payroll. Timekeepers may update timesheets to correct errors followed by the Approver going in to approve/authorize the changes. Timekeepers should not be approving or authorizing time.
PTO and Vacation Accruals: When Can They Be Used
Well, it depends on the type of employee in question. Are they bargained for or non-bargained for? If they are bargained for, which agreement are they covered by? These are all questions that must be asked before the answer to the question in the title of this article can be answered.
Below is a table that shows the answer based on employee type and source policy or agreement: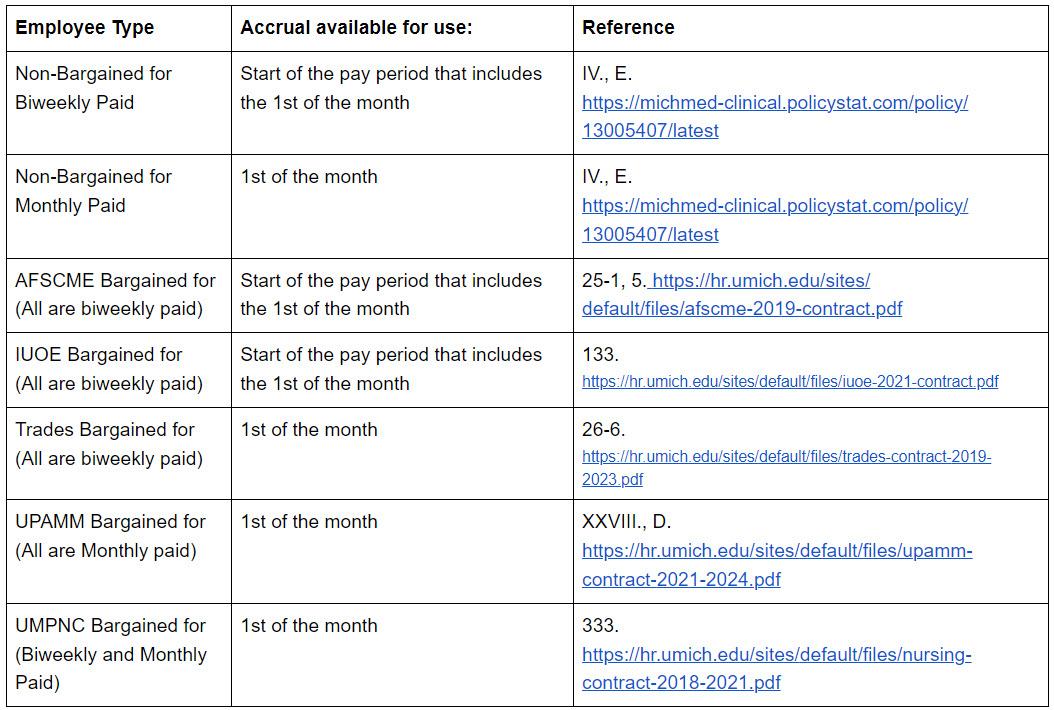 As a reminder, accruals are loaded at the start of each month (an advance) and each employee's reported time is evaluated in the following month to determine if an accrual reduction is needed. Use of unpaid time extended sick, and maternity leave, count against accruals. If a reduction is in order and there aren't enough hours left over at the end of the month the employee is overpaid. The UM Health HR Payroll Office notifies departments when employees are overpaid due to an accrual reduction and sets up deductions from future paycheck to reconcile the overpayment.